New residential construction started the year strong, providing another reason to believe in the overall strength of the economy.
The annual rate of privately-owned housing starts in January was up 9.7 percent from December, carrying momentum over from a 2017 that was already the best year for new home construction since the housing bubble burst in 2006.
Taken with encouraging results from last week's builder's confidence survey from the National Association of Home Builders, the outlook remains promising for continued growth in the housing market and the sector's steady contribution to the economy overall.
"There's still solid demand, which means the market is still ripe," said Michelle Meyer, head of U.S. Economics at Merrill Lynch. "Certainly, in the medium term the outlook is still positive for homebuilding."
Demand, at least so far, doesn't seem diminished by the prospect of rising interest rates. Inflation exceeded expectations in Tuesday's release of the Consumer Price Index, fueling speculation that the Fed may raise interest rates more than had been previously projected.
HOUSING'S STEADY CLIMB BACK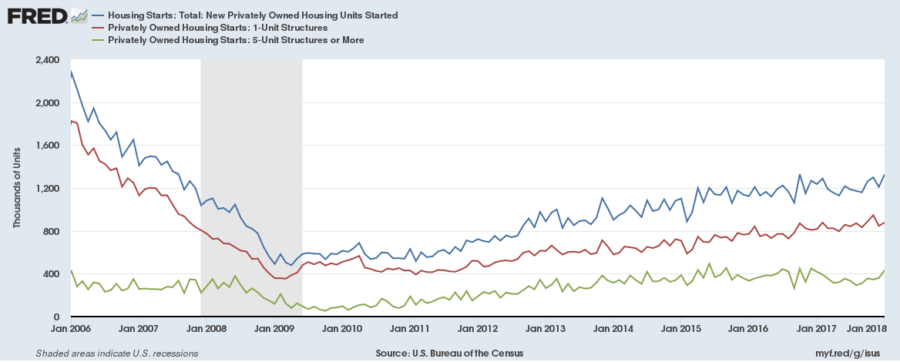 The lion's share of January's increase in housing starts came from a big bump in multi-unit construction, where the annualized rate of 431,000 new units is a 19.7 percent increase from December's numbers and the highest number in over a year.
Single-family units were up as well, but their 3.7 percent increase from December seems less impressive when considering that December's number was down 7 percent from November.
Because much of the gain came in the highly volatile multi-family sector, the strong numbers may not hold over the months ahead.
"It was a good report but it's easy to overstate its significance," said Michael Moran, chief economist at Daiwa Capital Markets. He stressed that multi-family starts are particularly susceptible to random volatility. "You'll see spikes up and swoons, it's just random noise in many instances."
Economists were nonetheless heartened by better-than-expected numbers in the Northeast, where severe winter storms had been expected to drag on construction and changes in last year's tax reform bill to caps in mortgage-interest deductions could have put the brakes on demand for the region's higher-priced homes.
"Even though we saw a weather headwind in January, there seemed to be some catch-up in the Northeast," said Michael Englund, chief economist at Action Economics. "This is the first clean post-tax reform number and it looks like it's upward rather than downward."
Continued strength in starts is welcome news to holders of homebuilding stocks, who endured a rough end to January when a two-week correction shaved 12.5 percent off the S&P Homebuilders Select Industry Index. Since bottoming out on February 8, the prices have stabilized and begun slowly climbing again.
As for prospective homebuyers, they can hope that more building might ease prices in what's been a tight market. The Case-Shiller Home Prices Index has risen steadily for months and it remains to be seen what effect February's housing starts number will have when the index is released on February 27.
"It's a very lean inventory," said Merrill Lynch's Meyer. "We've been sitting on very few homes for sale and still have solid demand."
Photo: Oregon Husky, flickr, used under a Creative Commons license